Vinpearl Land Nha Trang: Cable car, things to do, tickets, promo code
If you're coming to Nha Trang, Vinpearl Land is a must destination. This resort island is one of Vietnam's most popular playgrounds and a favorite way to spend a day (or a few days) in the coastal city.
Covering more than 200,000 square meters, including six resorts, a water park, amusement park and more – there are many exciting things to do in Vinpearl Land Nha Trang awaiting you to explore.
How to buy Vinpearl Land Nha Trang ticket/Promo code?
You can buy Vinpearl Land Nha Trang tickets by two ways:
Buy directly at Vinpearl Land Nha Trang. However, this might takes hours to queue in the long line to get a ticket to Vinpearl Land Nha Trang, especially on the peak-days.
Book online: This is probably the easiest or cheaper way to buy a ticket to Vinpearl. You might book here with a discount of up to 20%. When you coming to Vin Pearl Land Nha Trang, just go to the counter and use mobile QR code claim the ticket, so convenient to use I use promo code to buy a ticket which saves a lot from it.
What is Vinpearl Land Nha Trang opearation time?
Opening Hours:
8:30am-9:00pm, Sundays-Thursdays
8:30am-10:00pm, Fridays-Saturdays
Paradise Cable Car transfers operate from 8:30am-9:00pm, daily (last entry at 7:00pm; last return at 8:30pm)
Things to do in Vinpearl Land Nha Trang
1. Ride the Sky Wheel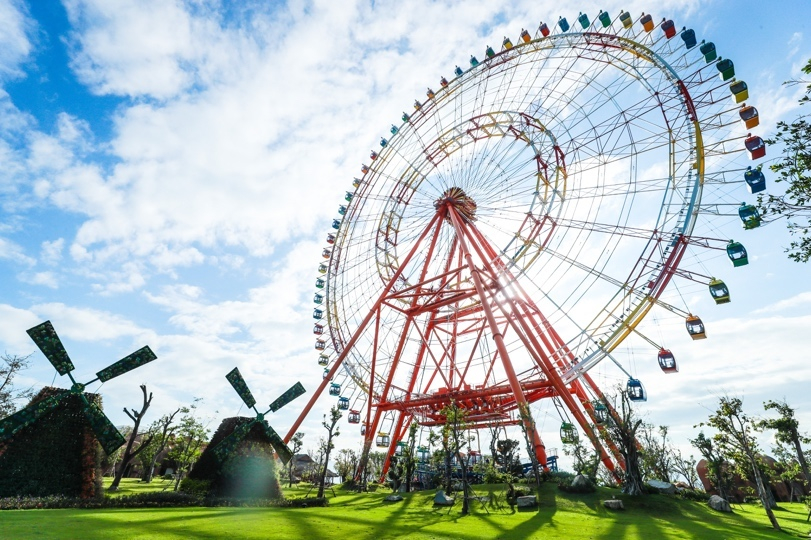 What is an amusement park without a Ferris wheel? Rising up to 120 meters, the Sky Wheel at Vinpearl Nha Trang is the tallest in the country. Sign up for a ride on this iconic attraction for sweeping, birds-eye views of the entire Vinpearl Land and Hon Tre Island.
2. Take the world's longest sea-crossing cable car
The 3.3km cable car ride to the island is one of the must-do of every visit to Vinpearl Nha Trang. From 100 meter high, you will see the stunnning panoramic view of turquoise water across Nha Trang Gulf.  The cable car ride is also beautiful in the evening, when its nine pillars are lit up in neon lights.
TIP: Tickets for Vinpearl Land Nha Trang are usually VND 800,000 per adult, and include the cable car ride.
"It's not only natural wonders that have made our list. Off Vietnam's central coast, the two-mile-long Nha Trang Vinpearl Cable Car connects Hon Tre Island with Nha Trang. Built across a series of Eiffel Tower-esque structures, the cable car ride provides aerial views of the vast ocean below and towering mountains in the distance", CNN wrote about Nha Trang Vinpearl Cable Car.
3. Unwind in an over-the-water spa bungalow
Escape from the action and enjoy some 'me' time at the spa in Vinpearl Luxury Nha Trang. Set on an isolated beach, each spa bungalow is built over the water, allowing a gentle breeze and the sounds of the waves to lull spa-goers into deeper relaxation.
4. Vinpearl Amusement Park
Vinpearl Amusement Park's attractions include a variety of water slides with names like 'space hole,' 'tsunami,' 'black hole,' and 'kamikaze'. The 900-metre long 'lazy river' features gentle floating along while wearing a swimming ring, and the 'wave pool' emulates different sea conditions, from choppy to very stormy. The very young have their own kids' pool with chairs and umbrellas for supervising parents. An impressive 3,000sqm aquarium, or 'underwater world', has a tunnel with a motorised walkway through which visitors can admire no less than 300 species of colourful fish. This modern and beautifully-kept aquarium is claimed to be the biggest of its kind in Vietnam.
5. Get your adrenaline high on the world's largest Floating Buoy Bay
A wide range of sea adventure games are available on the Floating Buoy Bay such as  cliff climbing, giant ball, balancing bridge, action tower, hollow, roller, beam swinging, slide, swing etc. which always attract to those who love strong feelings.
With a total area of ​​over 4,200m2, exceeding the record of 3,000m2 in Dubai, Vinpearl Land Nha Trang Floating Buoy Bay can serve up to 750 people at the same time.
In the cool and pure blue sea water, nothing is more interesting than the opportunity to discover your own limit, to hang on the Floating Buoy Bay and to keep the moment of "thousands of likes" to share with your friends? Not only having beautiful landscape, Floating Buoy Bay also has professional 24/24 rescue force to ensure the absolute safety experience for the tourists.
6. Exciting Mine Adventure
Mine Adventure is a famous game in the world that has appeared in Vietnam at Vinpearl Land Nha Trang! With the speed of 40km/h on the length of 785m, this express train will take you through the amazing tunnels with spectacular turns to discover the mysterious mines, creating a sense of super excitement and this is completely different from being in the sky with a roller coaster.
7. Conquering the first slide of Alpine Coaster in the first island in Asia
Alpine Coaster is a sliding system that is on the list of outdoor games of Vinpearl Land. This is the first Alpine Coaster system on an island in Asia and also the longest mountain sliding system in Southeast Asia with a total length of 1,760m.
Participating in this game, tourists will slide on the lovely double car for two tourists with the hand brake system to keep the safe distance between the cars. Especially, Vinpearl Alpine Coaster has absolute safety factor, suitable for all ages (including the elderly and children), the players can adjust the speed as you like.
Instead of normal tower sliding, the mountain sliding game on island offers the ultimate excitement for tourists
4. Wander the flower gardens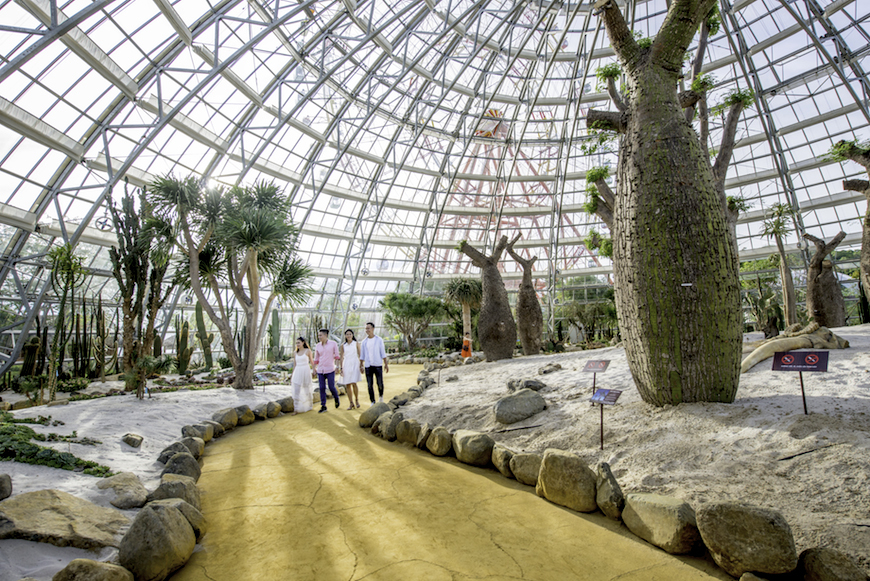 Plant lovers will find a paradise awaits at Blooming Hill (Đoi Van Hoa). Located at the highest point of Vinpearl Land are five modern greenhouses made of glass. Each one holds hundreds of plant species from all over the world. Step inside and be greeted by isles of waving tulips, lavender and more.
5. Pray for peace at Truc Lam Pagoda

Vinpearl Nha Trang is home to its very own pagoda. The scenic Truc Lam Temple was constructed at the base of a cliff, facing the water and Nha Trang Bay. Architecture enthusiasts and spiritual seekers will enjoy visiting this peaceful spot and taking it in its ornate carvings and statues, including the impressive Quan Am Nam Hai Statue.
6. Soak up the sun on the floating bay

One of the newest features at Vinpearl's water park is a 4,200 square-meter Splash Bay – the largest floating bay in the world. Set on a lovely beach, this floating attraction is a fun place to hang out with friends, swim, sunbathe and relax.
7. Dine on seafood a view of the ocean
Nha Trang is famous for having some of the freshest seafood in Vietnam. While you're at Vinpearl Nha Trang, find your way to Ozone Restaurant in Ocean Hill. Here, you have your pick of live seafood, from King Crab to Canadian Lobster, cooked to your liking and served with an array of 17 sauces. The sea views from this restaurant are the perfect backdrop for a delicious lunch or dinner.
For tickets, opening hours and more visit here